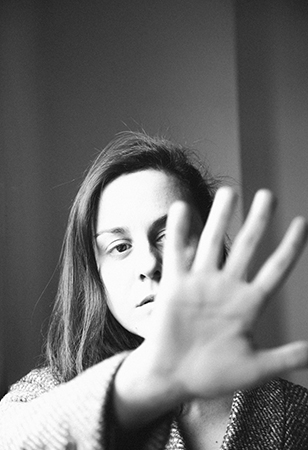 Rocío Montoya (Madrid, 1983) es fotógrafa, diseñadora gráfica/web y editora con sede en Madrid, España.
Su especialidad es la fotografía experimental, terreno en el que se ha movido desde sus inicios creativos. También le apasiona el diseño editorial, motivo por el que fundó en 2010 el portal y revista digital DOZE Magazine, que ha co-dirigido y diseñado hasta su cierre en junio de 2014.
Su interés se centra especialmente en el retrato, abordado a través de diferentes técnicas plásticas y siempre con la fotografía como la base esencial de cada obra final. A lo largo de su trayectoria como artista ha realizado una exploración personal de las conductas y estados emocionales del ser humano, transformando la realidad mediante la manipulación de la imagen para transmitir su percepción del entorno a través de experiencias estéticas.
Se sumergió en el terreno de las artes visuales por la curiosidad de expresar sus inquietudes y por la necesidad de buscar la belleza como vía de evasión y deleite personal. Su admiración por la pintura y el surrealismo es evidente a la hora de abordar sus creaciones, en las que se puede observar una clara tendencia a recrear atmósferas y situaciones distantes a la pura realidad documental, caracterizadas por un delicado, inquietante y poético estilo gráfico.
El cuerpo humano en sinergia con la naturaleza, la figura femenina y la pérdida de identidad son las bases conceptuales de su trabajo.
Uno de sus intereses más recientes es la ilustración, terreno en el que comenzó a sumergirse más concienzudamente en 2018. Con técnicas como la acuarela, el grafito y el gouache aborda nuevas creaciones con una potente carga cromática y con la mujer nuevamente como protagonista.
Además de su obra personal, Rocío Montoya ha realizado numerosos editoriales de moda y ha trabajado como reportera gráfica de prensa.
Actualmente reside en Madrid y compagina sus proyectos personales con un puesto de editora gráfica en el diario elEconomista. Si te interesa hablar con Rocío para plantear alguna propuesta artística, encargo o proyecto profesional puedes escribir a info@rociomontoya.com.
---
Rocio Montoya (Madrid, 1983) is a photographer, graphic / web designer and editor based in Madrid, Spain. Her specialty is the experimental photography, land on which has moved from its creative inception. Also passionate for the editorial design, in 2010 she founded DOZE Magazine, which has co-directed and designed until its closure in June 2014.
Her interest is particularly focused on the portrait, approached through different plastic techniques and always with photography as the essential basis of each final artwork . Throughout her career as an artist she make a personal exploration of behaviors and emotional states of the human being, transforming reality by manipulating the image to convey their perception of the environment through aesthetic experiences.
She immersed herself in the field of visual arts by curiosity to express her concerns and the need to seek beauty as a means of escape and personal enjoyment. Her admiration for painting and surrealism is evident in addressing their creations, which you can see a clear trend to recreate atmospheres and distant situations to pure documentary reality, characterized by a delicate, haunting and poetic graphic style.
The human body in synergy with nature, the female figure and the loss of identity are the conceptual basis of her work.
One of her most recent interests is illustration, a field in which she began to submerge more conscientiously in 2018. With techniques such as watercolor, graphite and gouache Rocio has tackles new creations with a powerful chromatic charge and with women again as protagonists.
In addition to her personal work, Rocio Montoya has done numerous fashion editorials and has worked as a newspaper photojournalist.
Currently she lives in Madrid and combines her personal projects with a graphical editor since in daily elEconomista. If you want to talk with Rocio to raise an artistic proposal, assignment or professional project can write to info@rociomontoya.com.